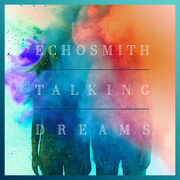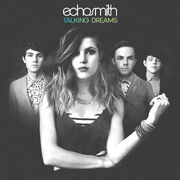 Talking Dreams is the debut studio album of the American all-sibling alternative pop band
Echosmith
. The album was first released on October 1, 2013. On October 8, 2014 it was reiussed with an alternate cover after the band became famous with their hit 'Cool Kids'. In some countries the album is only avalaible in a Gatefold Sleeve.
According to an interview with Alter the Press! round about 80 songs were written for the album, but the band was able to narrow it down to 14 songs. Sydneys intention was to make every song unique but also flowing together with the other ones. Talking Dreams should represent how the band really feels and where they are in life. The album should sound exactly like one of their live shows.
Track listing
Edit
Track 13 and Track 14 were only part of the Deluxe edition of the album. Track 3 'Cool Kids' is missing 22 seconds on the 2014 edition of the album.
All songs were written by the band together with Jeffery David. The song 'Cool Kids' is also co-written by Jesiah Dzonek,  ,,Bright is co-written by Mauren McDonald and Tom Leonard contributed to the songs March Into The Sun, Talking Dreams and Safest Place
4 songs were released as a single: Cool Kids, Come together, Bright and Let's love.